Gents 6mm Platinum Ring with Raised Frosted Centre and Shiny Edges and Set with a Single 5pt Round Diamond
Product Code:
W4839 D G PLAT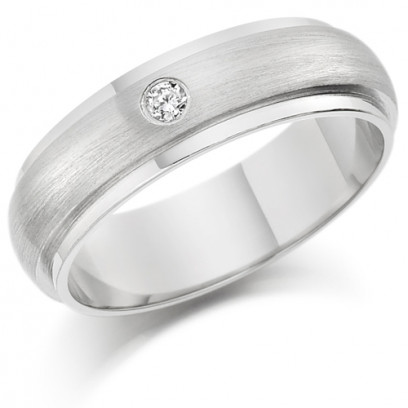 Three ways to order your bespoke wedding ring or diamond ring
Order online and your bespoke ring will be made and delivered within two to three weeks, or earlier if you're in a hurry. Each ring comes with an engraving of your choice, if requested. Whenever you feel your ring needs refurbishment, just send it back to us, and we will repolish it and bring it back to new.
If you don't know your ring size please click here and we will send you a free ring sizer.
Make an appointment to visit our showroom.
Monday-Friday from 9.30am - 4.30pm
Saturday from 9am - 1pm
Shows/Exhibitions
The National Wedding Show (London Excel)
Date : 13th April – 14th April
Time : 10am - 5pm
The Venue : London Excel
One Western Gateway,
Royal Victoria Dock,
London E16 1XL